CEG says Warren County Ranks 2nd to Albany
Business formation activity in 2021 increased by fast rate
Warren County ranked second to Albany County in annual business formation growth, stated by the Center for Economic Growth (CEG). The CEG recently published an analysis of U.S. Census Bureau data that shows 13,743 businesses in the eight-county Capital Region filed for an Employer Identification Number (EIN) with the IRS in 2021 – a 45% year-to-year increase.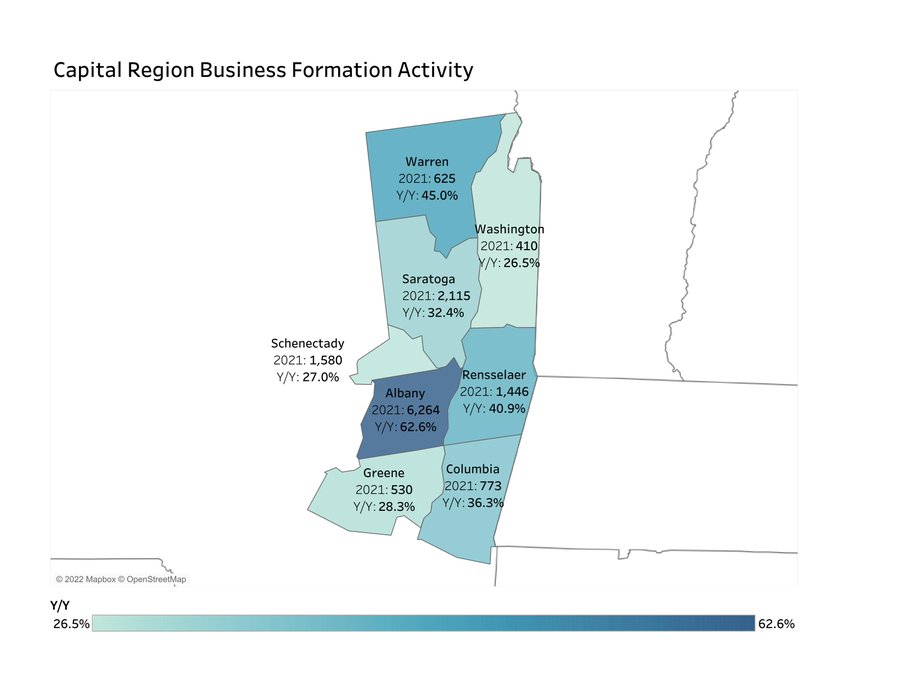 Warren County's growth can be partially attributed to the increasing desire for residents to maintain a healthy work/life balance, which is coveted since the onset of the COVID-19 pandemic. However, a balanced lifestyle is not possible if businesses and employees do not have access to reliable broadband connection. The ongoing efforts of the Economic Development Corporation provided widespread expansions of broadband throughout Warren County, removing a major obstacle for sustainable business growth in the region.
John Wheatley, VP of EDC Warren County has been working with broadband providers to offer the best case scenarios. Broadband availability is a critical component of business formation growth in Warren County and the Adirondacks. Since the beginning of the pandemic there have been close to 3,000 addresses connected to fiber-based service particularly in the more rural areas of the county. Having access to high-speed broadband enables many people to easily transition to remote work opportunities and we see that trend continuing in the post pandemic era.
Access to world-class recreational activities and tourism destinations enrich both the personal and professional lives of county residents. Warren County offers a robust network of municipal parks, among stunning sites like Lake George ("Queen of American Lakes,") West Mountain, Gore Mountain and the 1980 Olympic Center in Lake Placid.
This wave of economic development is unique in that it is based on attracting people in addition to companies and organizations. Increasing numbers of our changing workforce are choosing where they will base themselves on places they find appealing to live. Every day we meet new and potential professionals who are seeking affordable housing, access to major markets without having to live in them and the ability to live a unique and fulfilling lifestyle that includes access to nature and recreation. Warren County is all of that and we are working to evolve our efforts around building a long-term sustainable economy and community around this incredible combination of appealing assets we can offer.